VW Beetle hire
At Kombi Style we have introduced the VW Beetle hire service to compliment our range of Kombis. If your party consists of more than 7 guests, but fewer than 12 in total, then you may consider hiring one Kombi and a VW Beetle.
Contact us at Kombi Style to discuss your itinerary and we will make recommendations in regard to transporting you and your guests on the day.. …in style.
VW Beetle Hire
Consider making a Beetle part of your wedding day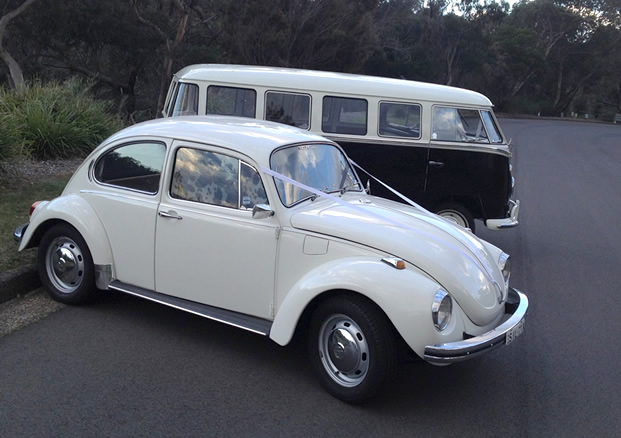 White 1972 'Superbug'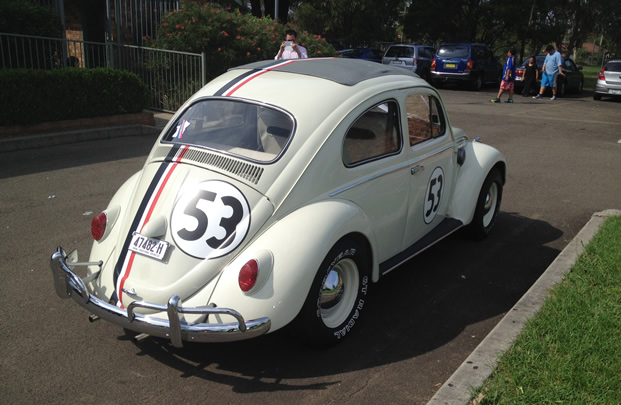 An 'original' Herbie (not a replica) – See more details on this amazing Beetle, and it's history
—————————————-
A bit of the VW Beetle history:
The first production VW Beetles saw the light of day in 1939, unfortunately the Second World War ceased production of the Volkswagen.
The early 1950s saw the rear oval window Beetles being produced
On the 17th February 1972 the 15,007,034th Beetle left the assembly line at Wolfsburg beating the record held by the Model T Ford as the most popular car in the world.
Beetle manufacture ceased at Wolfsburg in July 1974 and the Golf commenced.
These Beetles still look great today – and do become part of many a wedding day.
The Kombis that we have for hire are split window Kombis, which means that the VW Beetles for hire compliment the Kombis, and your photos will be great.
The driver of the VW Beetle will look after you on the day too, making sure the event turns out as special as you want it to be.
Beetle Hire Experience
We are accredited service operators with the NSW Transport Roads & Maritime Service, for a number of hire vehicles. Accreditation Numbers 39419 and 37808.
We have provided car hire services for over 200 occasions to date, and have numerous bookings over the next year and beyond, but still have availability for many of those days, so check with us in advance to secure a classic VW Beetle or Kombi for your big day.
Our Sydney Beetle hire car service covers a radius of about 90 Km from the CBD.
So if you want to make a grand entrance when you arrive at your venue, – call us or use our contact form or…
Email: info@kombistyle.com.au …if you choose to email us, please provide your mobile number too.
Phone: 0412 628 913