Kombi wedding hire
We cater to many different events, although Kombi wedding hire has proven to be the most popular for our Kombis. We offer a have a range of options for your occasion/event.
Kombi Wedding Hire
Arrive in style, in a classic Kombi – either split window or the newer bay window option. One thing that a Kombi does, is it makes people smile. Your bridal party will always look great when photographed with a Kombi.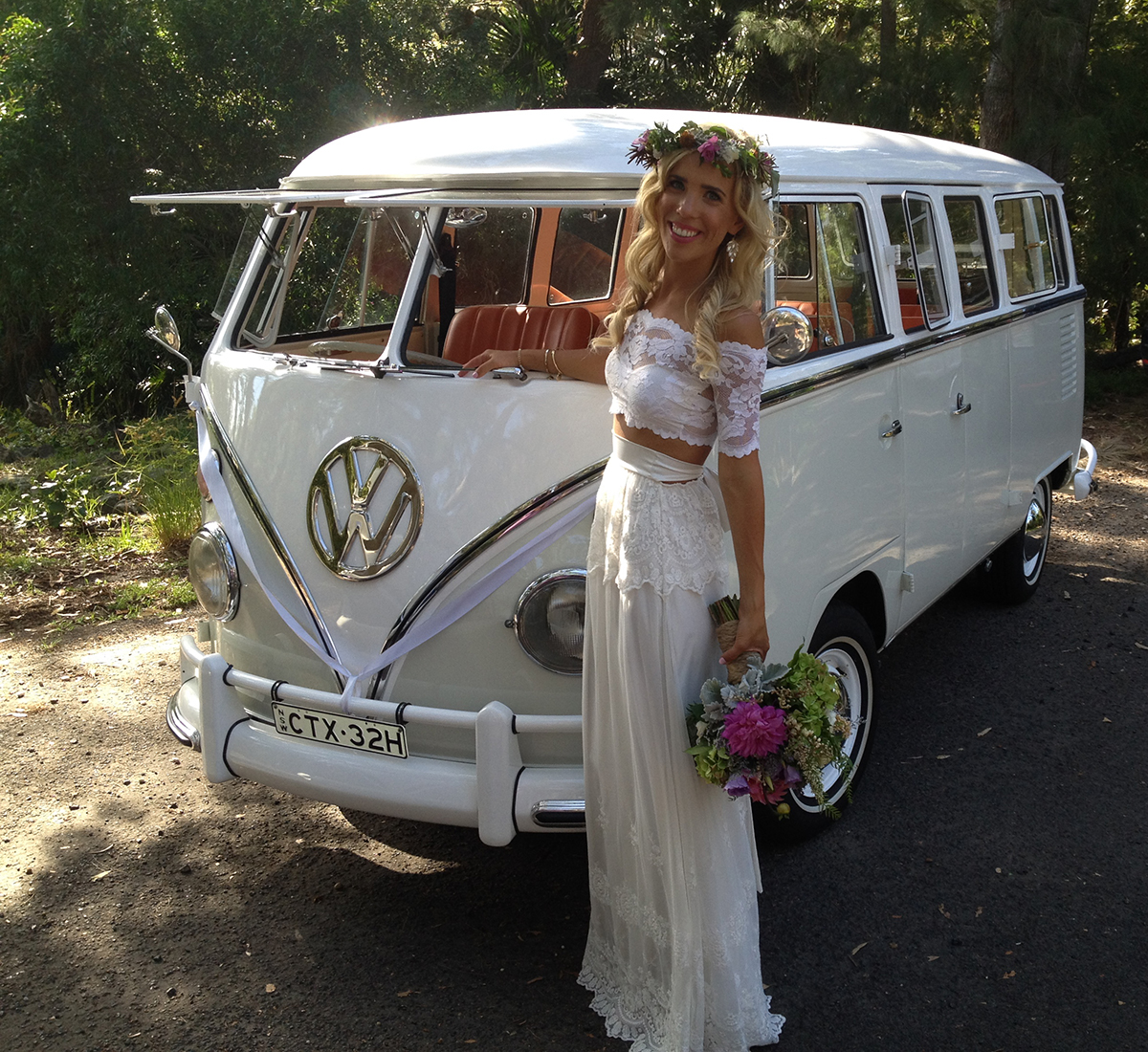 Getaway Car – after the reception
Ask us about this hire service, we could collect you after the reception, so that you leave in style too, and take you to your evening's accommodation.
School Formals
Make an entrance and arrive at your function in a Kombi!
Kombi hire makes sense for school formals for a number of reasons. Photographers enjoy working with Kombis because they can line-up a number of guests and the car is still visible, whereas smaller or lower cars get lost when group photos are taken with the car in the background.
Our Kombis can seat 7 guests, which means we can transport a bigger group to the venue.
Tours or Promotional Events
The photogenic qualities of Kombis are well known. The Kombi also represents a lifestyle choice and always turns heads. Enquire about options for your event, tour or promotion.
Kombi Wedding Hire Experience
We have provided Kombi wedding hire services for over 300 occasions to date, and have numerous bookings over the next year and beyond, but still have availability for many of those days, so check with us in advance to secure a classic Kombi for your big day.
Kombi Wedding Hire Inclusions
When hiring one of the Kombi Vans, the following is usually included:
• White ribbons which gets put on the front of the Kombi
• Esky with ice
• 2 white umbrellas (in case of rain)
• Champagne glasses
• Check to see what sound system the Kombi has (either with CD player, or MP3 player socket, for use with iPod, iPhone etc)
NOTE: We provide a careful and courteous driver for you – so one less thing to worry about.
View the gallery showing various styles
So if you want to make a grand entrance when you arrive at your venue, – call us or use our contact form or…
Email: info@kombistyle.com.au …if you choose to email us, please provide your mobile number too.
Phone: 0412 628 913