Kombi formal hire
We know that your formal is a once-off special event and that you want to arrive at the venue in style.. …looking good. Kombi Style wants you to feel special, so we make the effort to treat you as a celebrity on the day. Kombi formal hire is one of our specialties.
Kombi Formal Hire
If you're thinking of formal car hire, make an entrance! Arrive at your formal in a Kombi.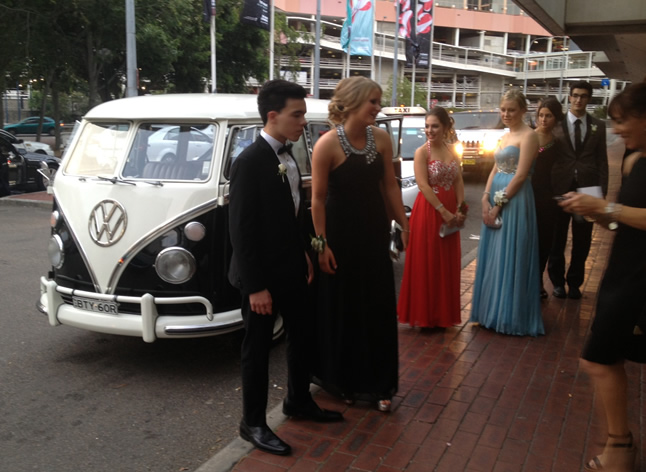 Kombi formal hire makes sense for a number of reasons. Photographers enjoy working with Kombis because they can line-up a number of guests and the car is still visible, whereas smaller or lower cars get lost when group photos are taken with the car in the background.
Our Kombis can seat 7 guests, which means we can transport a bigger group to the venue. This means that your group of friends can travel and arrive at the venue together.
Our Kombis will transport you to your formal venue and can take you to an 'after party' destination if required. We can also arrange the day so that you stop off at a scenic place to take photos with and without the Kombi, before dropping you off at the venue.
Kombi Formal Hire Experience
We are an authorised Booking Service Provider with the NSW Point to Point Transport Commissioner. Authorisation number BSP-409554.
We have provided Kombi hire services for over 300 occasions to date, and have numerous bookings over the next year and beyond, but still have availability for many of those days, so check with us in advance to secure a classic Kombi for your big day.
Our Sydney formal hire car service covers a radius of about 200Km from the CBD.
So if you want to make a grand entrance when you arrive at your school formal, – call us or use our contact form or…
Email: info@kombistyle.com.au …if you choose to email us, please provide your mobile number too.
Phone: 0412 628 913